Cotton Rug Cleaning in Columbia and Baltimore, MD
Cotton rugs are easy, lightweight, full of character and provide a subtle soft touch in your home decor. Unlike heavy wool or synthetic rugs, cotton rugs give you a blanket-like soft feeling and are perfect for any room, especially nurseries and kids' playrooms.
Cotton rugs are timeless beauties, but they can be pretty sturdy; they can take a lot of abuse. But it would help if you cleaned them sometimes. And when you need to clean your cotton rugs, you must remember to call Legacy Rug Care Cleaning for a professional outcome.
Are you living in Columbia, Baltimore or nearby areas? If yes, pick up your phone now and call us at 410-348-1814 now!
How to Maintain Cotton Rugs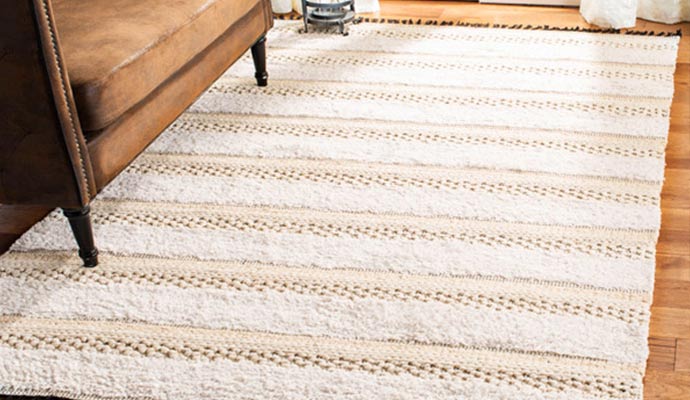 The good thing about cotton rugs is that you do not have to clean your cotton rugs. They add sophistication to your home without the burden of taking extra care.
If your cotton rug is handmade or delicate, then you might probably need to give a little extra effort to maintain it. Even though you can wash your cotton rugs at home, there is always a fear of tearing them. It is better to leave such things to professionals because they are experts and know exactly what products to use on what fabric.
Even if your cotton rug is a machine made it is better not to take the risk of washing it than in a washing machine at home. Because it may get torn and also colors may run. So why would you want to take such a risk? Have professionals do the job.
Cotton rugs need sun drying after washing because sun rays kill germs and keep your rug fresh. At Legacy Rug Care Cleaning, we do such processes with care and precision. Your only job is to contact us. We'll take care of the rest.
Choose Us for Professional Cotton Rug Cleaning
We believe in customer satisfaction, and that's why we aim to deliver products in pre-loss condition within 3-5 business days! All our hard-working technicians put their best foot forward in accomplishing their job. So, trust us when we say we will refund you if you are not satisfied with our job.
You may also avail of our other services, including UV protection, pet stain removal, padding sales etc. Contact us online or call us at 410-348-1814.