Hooked Rugs Cleaning Services in Columbia & Baltimore, Maryland
Hooked rugs are incredibly famous and unique for their multi-colored and irregular patterns. People have been using hooked rugs for a long time. Their designs, choice in fabric, crocheting, and quilting method have evolved a whole lot with time.
Hooked rugs can be machine-made or handwoven. Machine-made is the cheaper choice. Machine or hand-loomed, if you are thinking about washing your hooked rugs all by yourself, stop right there! If you live in Columbia, Baltimore or nearby areas, then make sure to contact us.
Hooked rugs are delicate and need extra care when it comes to washing. Do not take the risk. Pick your phone and call us at 410-348-1814 for your hooked rug cleaning service.
Hooked Rug Care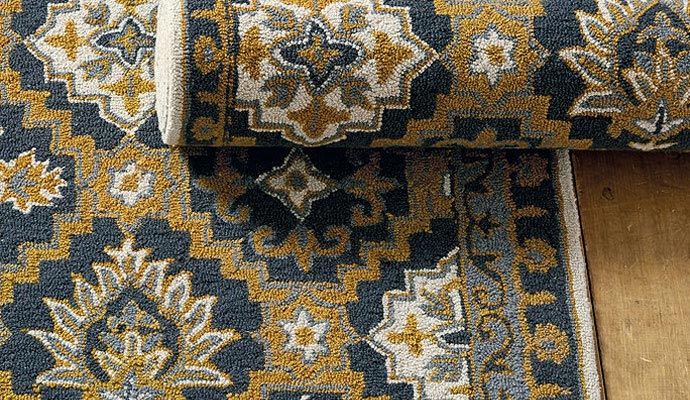 When it comes to maintaining your hooked rugs, you may follow certain things to keep them well-groomed and maintained. But if you are talking about deep cleaning and washing, you must call a professional rug cleaning service company like us. Here are a few things you can do to maintain your hooked rugs-
Vacuuming- You should vacuum your hooked rugs weekly or bi-weekly to keep them dust clean. But it would help if you remembered to vacuum it attentively because loose or snagged fibers vacuuming will worsen the rug's condition. Rehook the unhooked yarn bag to its place and then cleaned your mat.
Spilling- If spilling is the issue, do not use a harsh detergent; blot it with a clean, dry, preferably white cloth. Please do not soak the whole rug in water; it will damage it. You can brush slightly but never roughly. Call us if it doesn't work.
Storing- When It comes to keeping your hooked rug, you should never fold it. Roll it with the backing of the rug inside. Storing the rug in a plastic bag or anything might ruin your rug. The presence of moisture will give a reason for mold growth, so keep your rug in a dry place.
Let Us Clean Your Maryland Residents Hooked Rugs
Legacy Rug Care isn't simply the premier rug cleaning specialist in the Baltimore area. We have been carpet and floor cleaning specialists in Maryland since 1986. Our family-owned and the run company guarantees you'll love our work, or we'll refund your money for our carpet, tile and floor cleaning services.
We have a highly-skilled, trained, certified, and a background-checked group of technicians who will guide you throughout your whole journey of rug cleaning. You may ask them if you have any doubts.
From picking up the deliver it right back to you, we will do all the work. Besides rug cleaning, we also provide services for pet stain removal, moth protection, UV protection, and many more. Contact us online now or call us at 410-348-1814.