Persian Rug Cleaning Service in Baltimore & Columbia, Maryland
Persian rugs are timeless classics. Every homeowner takes pride in owning a Persian rug. They are famous for their use of natural fibers, intricate designs, rich colors, patterns etc. They are highly valued for their quality and durability as well.
If you live in Baltimore or surrounding areas, then make sure to call us for your Persian rug cleaning service. As they are costly and delicate rugs, it is better not to clean them at home because inexperienced hands might ruin your precious carpet forever.
So, whenever you need a cleaning service for your Persian rug, make sure to call us at 410-348-1814. We will pick you up from your doorstep and deliver right back to you if you live in Baltimore or surrounding areas.
Reasons You Should Buy a Persian Rug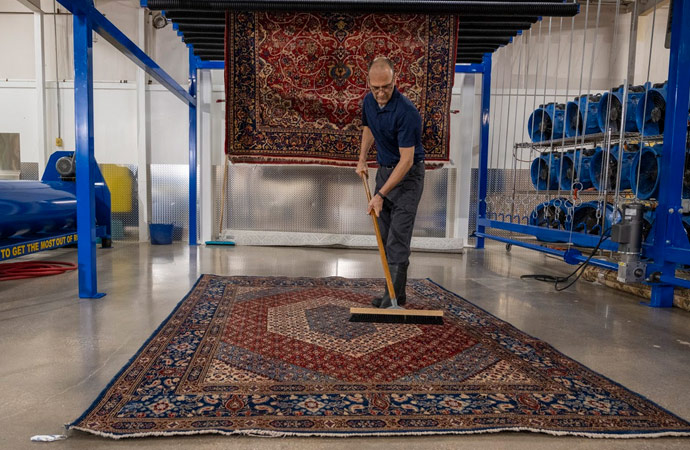 Persian rugs are beautiful pieces of art in the form of rugs. These beauties make your place look more elegant and cozy. Here are a few reasons why every homeowner should own a Persian rug-
Colors & Designs- Persian rugs are known for their rich colors and unique designs. People worldwide love to own a piece of beautifully designed colorful Persian rug in their collection.
Craftsmanship- Persian rugs are known for their pain stalking craftsmanship. Every Persian rug tells a different story with its history and patterns.
Knotting technique- The knotting technique of all the Persian rugs are unique. This asymmetrical knotting technique makes a Persian rug stand out from other rugs distinctly.
Traditional- Persian rugs are traditional. So if you love to own a bit classic piece for your home, Persian rugs are the best choice.
Good Investment- Machine-made rugs wore out, but handed woven crafted Persian rugs are a good investment because you can pass down Persian rugs to your children as a family heirloom.
Piece of Art- Every piece of Persian rug is a piece of art. They are beautiful even to look at. So if you are an ardent art appreciator, you must keep a Persian rug in your collection.
Great Home Decor Item- Persian rugs are suitable for decorating your home as well. These give your home a traditional, artistry look and make your place more enticing.
Makes Your Home Comfortable- What is the primary purpose of any rug? The purpose of any rug is to make your home more cozy and comfortable. The thick, dense fiber of the Persian rug makes your home more comfortable than any other rug.
Contact Us in Maryland if You want to clean Your Persian Rug
Trust Legacy Rug Care Cleaning for your Persian or any delicate rug, and we will return it to you in pre-loss condition. All our technicians are highly skilled, trained, certified, and know-how to accomplish their given job.
Besides cleaning delicate Persian rugs, we also provide services for stain removal, rug repair, padding sales, moth protection and many more. Contact us online or call us at 410-348-1814 for further information.