Sheepskin Rug Cleaning in Baltimore & Columbia, MD
Soft, fluffy sheepskin rugs are ideal for adding comfort and a unique design element to almost any room, no matter how basic. Regular foot traffic, pet lounging, or using them as floor mats or cushions can flatten or dull your sheepskin rugs. They can accumulate hidden dirt, as well.
If your sheepskin rug is in urgent need of cleaning, and you're not sure how to brush or wash it, Legacy Rug Care has the answers. Our complete area rug care process will help treat and restore your sheepskin rug to a feel that's as good as new. For assistance with sheepskin rug cleaning or any area rug service, call Legacy Rug Care at 410-348-1814 or contact us online to arrange a consultation. We provide services in Baltimore, Columbia, Rockville, and throughout our Maryland service area.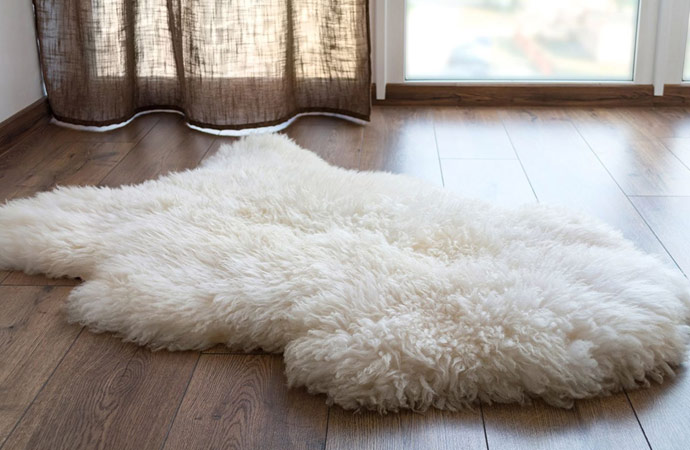 Deep Cleaning For Your Sheepskin Rug
Your sheepskin rug may require deep cleaning to remove dirt that has collected at the base of the fibers. Professional cleaning of sheepskin rugs provides outstanding results. Take the trouble out of your sheepskin rug cleaning by contacting the professionals at Legacy Rug Care. Sheepskin rugs can shrink 8 to 10 percent after washing, so our rug specialists give special attention to reducing the amount of shrinkage. 
We hand wash your sheepskin rug in cool water with an enzyme-free cleaning solution designed specifically for sheepskin rugs. While the rug dries, we massage and rub the skin to keep it supple and soft and reduce shrinkage. When your rug is dry, we brush the wool with a special brush to restore the fluffy nature of the fibers.
Why Legacy Rug Care For Sheepskin Rug Cleaning in Towson, MD?
Cleaning rugs in Maryland since 1986
Cleaning and rug repair specialists
State of the art equipment & facility
Stain removal experts
Certified to clean even the most delicate rugs
Drop off and pick up options available
Trust Legacy Rug Care For Sheepskin Rug Cleaning in Baltimore & Annapolis
Count us for the best sheepskin rug cleaning services in Baltimore, Annapolis, Towson, Columbia, and other cities that we serve in Maryland. Our professionals are fully trained to provide you with the best rug-related services. In addition to sheepskin rug cleaning services, we also offer area rug repair, pet stain removal, rug padding, rug protection service, and more. Please call us today at 410-348-1814 or click here to make a reservation with a cleaning technician today.