Area Rug Repair & Rug Protection Services in Reisterstown
Beautiful area rugs can improve the appearance of your house. Just because it is an everyday item, it can get dirty, accidentally damaged, or get wet by water, or other liquid. These can cause mold growth in your rug. Only professional repair and protection services can save your rug from those issues.
Legacy Rug Care is the solution when it comes to protecting and repairing area rugs. You can repair and protect your rug with our well-trained professionals and save the cost of replacing it. Our crews have years of hand on experience and can restore your old, damaged rug to its like-new condition.
To get professional area rug repair and rug protection services from us in Reisterstown, call 410-348-1814.
Benefits of Area Rug Repair & Rug Protection Services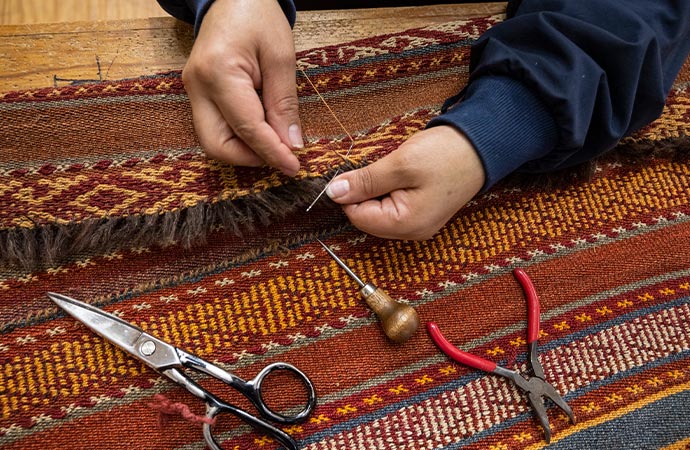 At Legacy Rug Care, we fix a wide variety of rugs, including those made of acrylic, sisal, nylon, wool, cotton, silk, and many more. There are many benefits of repairing and protecting a rug. Some are mentioned below:
Extended Life: Any damage will be evaluated and repaired as soon as possible by our professionals. Because a repair service done right in time increases the longevity of your area rug.
Enhanced Appearances: Any damage to rugs will have an impact on their appearance and luster. It's especially helpful when you use professional rug restoration services to restore the rug's original beauty and elegance.
Enhances Hygiene: It's likely that ripped rugs would draw in a lot of dust and debris, which will then promote the formation of mold. For maintaining proper hygiene, rug repair and protection are required.
Count on Legacy Rug Care in Reisterstown
Whenever you need to repair your area rug or you want to protect your rug, count on Legacy Rug Care completely. We also provide rug cleaning, and floor cleaning services as well. We have been serving in Reisterstown for a long time and have been maintaining our industry standard from the beginning.
Call us now at 410-348-1814 for the most efficient and reliable area rug repair and protection services or for more information about our services click here.