Area Rug Repair Services in Baltimore and Columbia, MD
Area rugs are beautiful items that enhance the beauty of your home. Those who aren't fans of wall-to-wall carpet look usually go for area rugs for their luxurious patterns and beauty. But your favorite area rugs can become torn or damaged somehow. Your superior area rug repair solution is Legacy Rug Care.
Save the huge cost of replacing your ornate area rug with area rug repair by Legacy Rug Care. Our state-of-the-art technology and expert technicians will make sure to return your rug to its like-new condition in no time.
If you live in Baltimore, Columbia or anywhere in our MD service area, call 410-348-1814. Don't delay in trusting us with your area rug repair solution today.
Legacy Rug Care Has Superior Area Rug Repair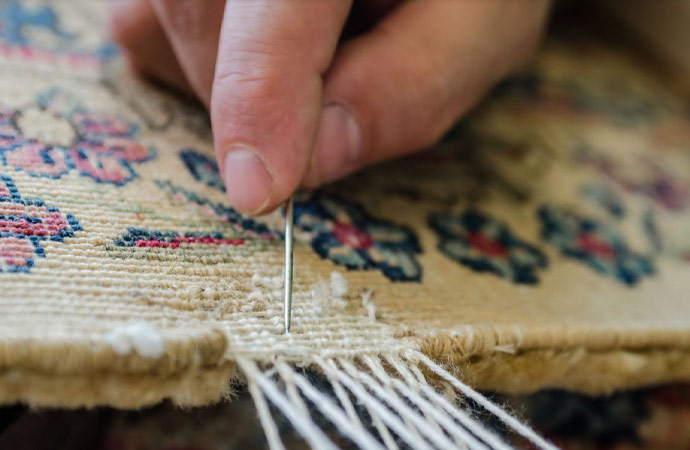 We repair acrylic rugs, sisal rugs, nylon rugs, wool rugs, cotton rugs, silk rugs etc., and many more. Here are a more rug repair services you can expect from us:
Rug serging and binding: We will closely inspect your area rug for serving and binding. Serging gives your rug a nicer, finished look. Depending on your rug's condition and type, we will use a hand or machine for drying and binding.
Rug fringe repair: After carefully examining the rug, we will choose the right rug fringe repair process. For machine-made rugs, we use power fringing, as this is a faster approach. If the fringe needs complete replacement, you can choose from our vast collection of fabrics and materials for fringes.
Rug patching and reweaving: Patching and reweaving is the most convenient way to repair your area rug. For a hole or damage in your area rug, patching and reweaving can help you avoid replacement and return its condition to like-new.
Rug backing repair: This type of repair will extend the life of your rug.
Trust Legacy Rug Care For Area Rug Repair in Baltimore & Columbia, MD
Legacy Rug Care has provided area rug cleaning and repair services in the Baltimore, MD, area for 35 years. Our certified experts clean the most delicate rugs after inspecting them closely. Our professional area rug repair services will best fit your rug's age, condition, material, color type or variety, and ability to repair. We serve customers in Columbia, Arbutus, Parkville, Essex, and throughout our MD service area. Trust Legacy Rug Care for the very best, superior area rug repair services. Call us today at 410-348-1814 or contact us online to schedule an inspection of your area rug.