Rug Fringe Repair in Baltimore & Columbia, MD
Many homeowners and offices use area rugs for cozier, more attractive rooms. They add charm and classic, old-fashioned looks. But years of foot traffic and accidental spills gradually soil or wear out area rugs. A common type of damage that requires professional attention to restore an older rug is rug fringe repair.
The fringe of an area rug often shows wear first, and fringes take extra attention to clean and restore. Regular vacuuming can rip, shred or fade an area rug fringe. To clean or repair an area rug or area rug fringe professionally, your superior rug fringe repair solution in the Baltimore area is Legacy Rug Care.
We assist residents in Rosedale, Parkville, Towson, Elkridge, or anywhere throughout our MD service area. Call us today at 410-348-1814 for area rug fringe repair.
Repair Your Rug Fringe in Columbia, MD, with Legacy Rug Care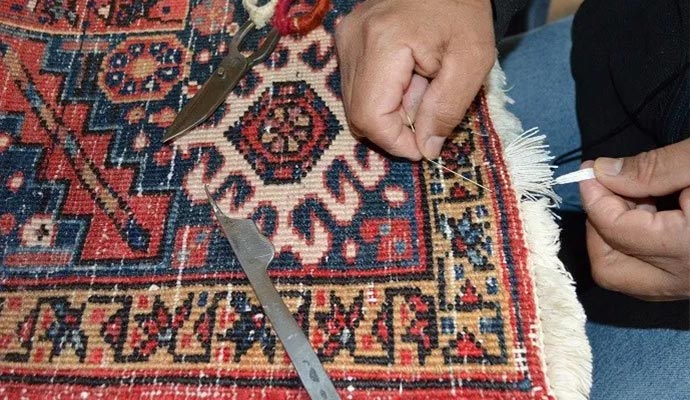 Area rug fringe needs professional attention after it's often damaged by the following:
Vacuuming
Pet chewing or soiling
Regular foot traffic, dirt
Damaged rug fringe makes an area rug unattractive or unsightly. Area rug fringe repair is the most affordable way to preserve your area rug. At Legacy Rug Care, our rug repair experts will inspect and repair damaged area rug fringe delicately but efficiently.
No one repair method fits every area rug fringe repair. But options and methods to repair, reverse or hide certain types of rug fringe damage are available to our customers. A close examination of your rug will determine our repair course of action. Adding new, matching fringe to enhance your area rug's elegance is an option as well.
Remember Legacy Rug Care For Rug Fringe Repair in Baltimore
Don't let the need for rug fringe repair wait so long that you need a new, more expensive rug. Our rug fringe repair experts want to give your rug the attention it needs and ensure your total satisfaction. At Legacy Rug Care, additional services include rug patching, rug blot stains or spots, color correction, and rug binding. Call us today at 410-348-1814 or contact us online for immediate assistance.