Rug Blot Stain or Spot Removal in Columbia & Baltimore, MD
Area rugs are meant to be displayed and used in the open in homes or businesses, but rug blot stains or spots seem to be an inevitable tradeoff. High-traffic areas, as well as food or drinks being spilled on them, occasionally take a toll.
Spills, stains and spots don't have to mean the end of a beautiful area rug. With quick, professional response, even the worst spills, blots and spots can keep from becoming permanent stains. At , we have the best stain removal experts for area rug blot stains or spots. Our superior service and results will remove those blemishes from natural or synthetic rugs, and the results will make you a believer.
Additional rug repair services we provide also include fringe repair, color correction, rug patching, and rug binding. Call us today at 410-348-1814 to learn more about what can do for your area rugs.
Stubborn Blot Stains & Spots Legacy Rug Care Handles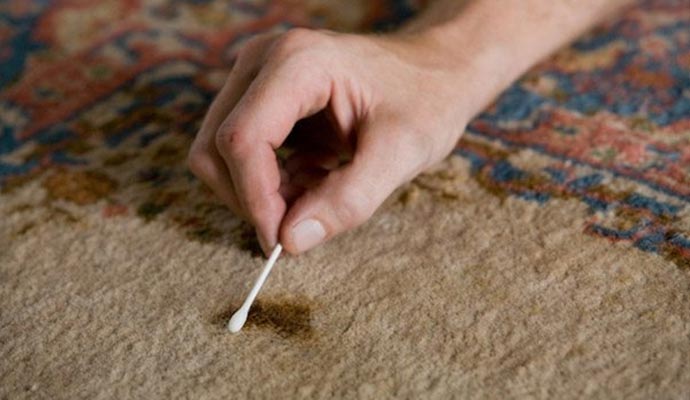 No luck with that stubborn area rug blot stain or spot? Give us a call at Legacy Rug Care for the following:
Ink
Nail polish
Blood stains
Candle wax
Water-based paint
Furniture or shoe polish & cosmetics
Pet or kid accidents, soda & coffee stains
Candy, chocolate, butter, grease & oil stains
Choose Legacy Rug Care For Rug Blot Stains or Spots in Columbia, MD
Legacy Rug Care has provided area rug cleaning and repair services in the Baltimore, MD, area for 35 years. Our certified experts clean the most delicate rugs after inspecting them closely. Our professional rug blot stain or spot removal will best fit your rug's age, condition, material, color type or variety, and ability to adequately correct. We serve customers in Columbia, Arbutus, Parkville, Essex, and throughout our MD service area. Trust Legacy Rug Care for the very best, superior rug blot stain or spot service. Call us today at 410-348-1814 or contact us online to schedule an inspection of your area rug.