Rug Pads in Baltimore, Annapolis, & Columbia, Maryland
Imagine having a beautiful rug that adds to the glamour of your home. Beautiful, isn't it? But if this pretty rug slips and gets misplaced all the time, then it becomes frustrating, right?
Well, we certainly don't want you to suffer from rug slippage, and that's why we offer the top rug pad on the market to ease your problem! If you live in Baltimore, Columbia, or another city in Maryland, then make sure to call us at 410-348-1814 to learn more about our rug pads and rug-pad services. You can also click here to make an appointment today!
When your rug stays in the perfect position, it makes your home environment more cozy and attractive for you and your guests as well as safe since it helps prevent tripping. But not all rug pads can guarantee you such and may not even be durable enough. But when you buy rug pads from us, we ensure that they will keep your rug in place for a long time.
Legacy Rug Care Offers 3 Types of Rug Pads for Maximum Pet Protection
Eco by Design: Place beneath a thin, low-profile rug
Eco Premium: Used to protect a midweight rug for extra cushioning
Eco Supreme: The plush design provides maximum padding & protection
Choose from one of our pre-cut sizes or contact us for a custom-cut rug pad to fit any rug shape or length at your home in Maryland.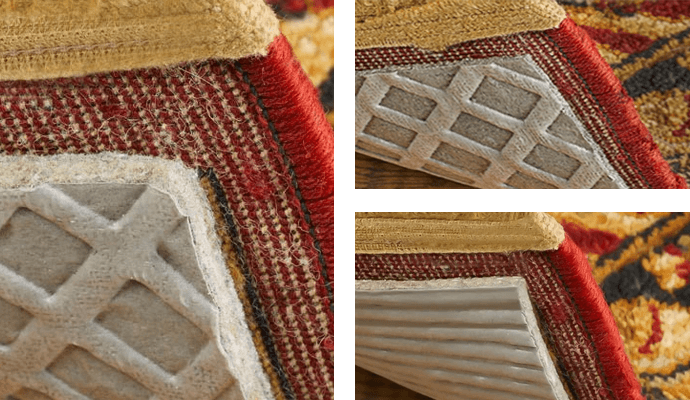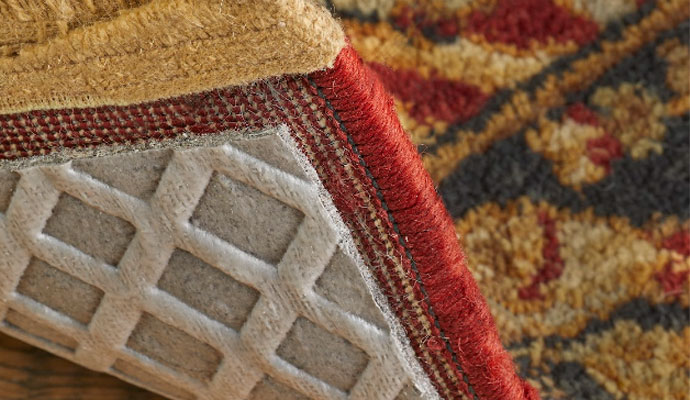 Other Benefits of Adding a Rug Pad Beneath Your Area Rug
NO LATEX - Most rug pads contain latex which ruins flooring. Ours are eco-friendly and safe for all members of your family.
Waterproof - All of our pads are water-resistant so any water or moisture that spills on your rug won't leak through to your floor.
Guaranteed - Our rug pads come with a warranty so you'll make an investment that will last for many years to come, unlike most rug pads that need replacing every few years.
You can check out our other services, including rug repair, rug cleaning, pet stain removal, and more! Contact us to learn more about why we have chosen Rug Pad Pet padding as our exclusive rug pad company.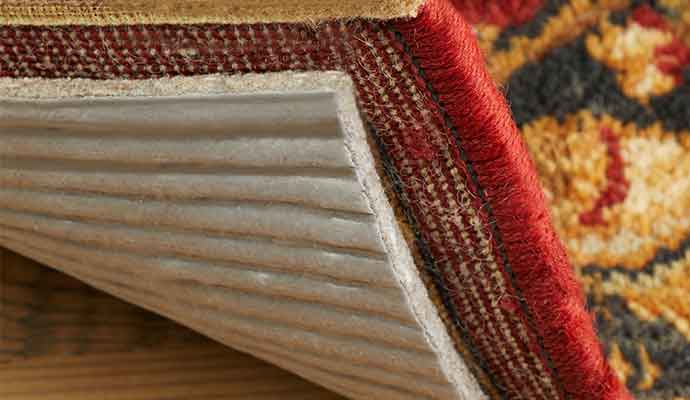 Signs that You Need a New Rug Pad
When your rug padding needs to be changed, you will see some clear signs. For example-
Does your rug pad start to fray? Then it is one of the signs that your rug pad needs changing.
Do you see loose fibers from padding? Then it is another sign for your rug padding replacement.
Does your rug pad fail to hold your rug in one place, unlike before? This is the primary sign that your rug pad needs immediate changing.
Key Considerations for Your Rug Pad
There are certain things you need to know before you order your rug pad. Here are a few things you will be asked before ordering your rug pad-
Surface- You will be asked if you will use or rug on a hard surface or soft carpet surface.
Shape- We will need to know about the shape of your rug as well.
Size- The size of your rug is significant, and we will need to know about its size to custom cut it for your rug. Our expert technician will do this job nicely to suit your needs.
Delivery- We will deliver your custom-sized rug pad to your address within the shortest time possible.
Let Us Handle Your Rug Padding Needs in Baltimore & Columbia, Maryland
Our company is a certified and professional company aiming to solve all your rug-related problems within budget. With our expert crew and state-of-the-art facility technology, we can provide you with the best possible service from us.
Get your rug pad from us at a competitive price. Our rug pads are durable and serve the exact purpose of holding your rug in place. To learn more about our products and services, call us at 410-348-1814 or you can simply click here to make an appointment today!