Professional Rug Repair Services in Towson, MD
Rugs are one of those things that not only add to the beauty of your house, but are also very useful. Rugs drastically improve the visuals of your home, making it pleasant to the eye of the viewer. But at times, rugs need repairs too. There might be tears, marks and scars in the rug due to furniture or food spills which need to be cleaned and repaired as soon as possible.
If a rug is not repaired in a timely manner, it may need to be replaced soon after, which can be heavy on the wallet. So it is better to repair your rug as soon as there is a need. Rugs should be repaired professionally as doing it manually will lead to improper finishing and stitches and it will probably never look the same again if there are any mistakes. That's where the professionals at Hydro Clean Rug Care come in.
If you are living in Towson, Maryland, and need a professional rug cleaning service, Hydro Clean Rug Care is here at your service. When it comes to cleaning and repairing rugs, we are the best rug cleaning company in the business. Our skilled, trained and highly experienced employees clean your rugs maintaining all necessary protocols so that you are satisfied with our service. Call us today at 410-348-1814 to schedule your service.
Why Choose Hydro Clean Rug Care?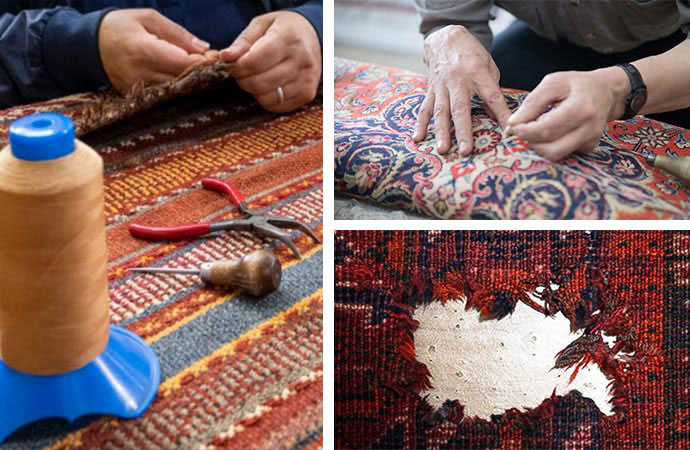 Here are a few reasons why you should choose Hydro Care Rug Care over other professional rug repair services in Towson, MD -
Providing Rug Solutions in Maryland since 1986
Cleaning and rug repair specialists
State of the art equipment & facility
Stain removal experts
Certified to clean even the most delicate rugs
Drop off and pick up options available
Hydro Clean Rug Care is people's first choice when it comes to repairing rugs, bleach stain or spot removal, beet stain removal, old stain removal, etc. in Towson, Maryland. If you are looking for a professional rug repair company to repair your rugs in Towson, MD then call us today at 410-348-1814 or contact us online!