The Functionality of Rug Pads in Baltimore, Columbia, & Towson
The main function of a rug pad is to prevent falls and slips, but it can be just as useful for the rug itself. Rug pads exist to protect you, your rug, and your floor. A rug pad increases a rug's quality and lengthens its lifespan by providing a buffer against direct contact with the floor and allowing it to lay flat. A rug pad also will aid in preventing any damage to the flooring beneath.
The thickness of a rug pad impacts its functionality, performance, and safety. You will find rug pads anywhere between 1/16″ and 1/2". That is an 8x difference in thickness. At Legacy Rug Care, we offer rug pads with the best rug pad functionality on the market for customers in Towson, Clarksville, Rockville, Baltimore, Columbia, and other cities throughout our service area in Maryland. To learn more about our products and services, call 410-348-1814 or click here to make a reservation ASAP for services at your home or office.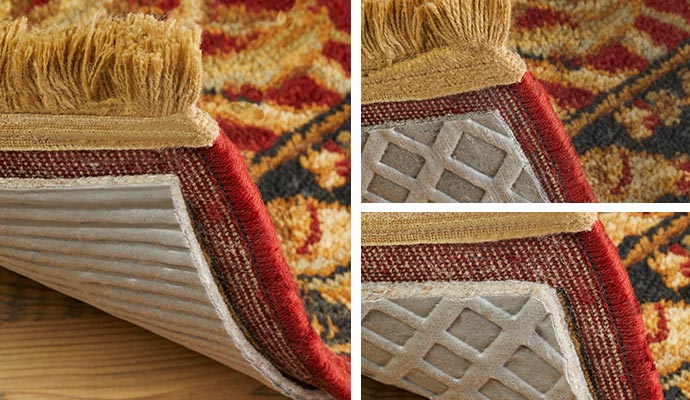 Rug Pads by Legacy Rug Care
We offer three types of rug pads to give you maximum pet protection. They include:
Eco Premium
Eco by Design
Eco Supreme
You can select from one of our pre-cut rug pad sizes or call us for a custom-cut rug pad that perfectly fits the rug at your home or office in Baltimore, Columbia, Catonsville, or Towson.
Call Us to Get a Rug Pad with Functionality in Baltimore & Catonsville
Our company is a professional and certified company that can fix all of your rug-related issues within your budget. Whether you need to add a rug pad with functionality or you seek services for pet stain removal, area rug repair, or rug protection, our crews have got you covered. Legacy Rug Care serves homeowners & business owners in Catonsville, Towson, Clarksville, Rockville, and dozens of other cities within our service area. To learn more about us or to get a free estimate, give us a call at 410-348-1814. You can also click here to make an appointment for services ASAP at your property in Maryland.