Area Rug Repair Services in Aquasco 
The top area rug maintenance and repair specialists in Aquasco are Legacy Rug Care. The elaborate designs and styles of area rugs, in addition to the quality that comes from being handcrafted, make them highly treasured and valuable pieces for homeowners.
Oriental, Persian, synthetic, silk, and other rugs can all be cleaned, preserved, and repaired by our experienced professionals. You can call us at 410-348-1814 from anywhere in the Aquasco service area to find out more about our products and services, or you can click the link to set up an appointment right away.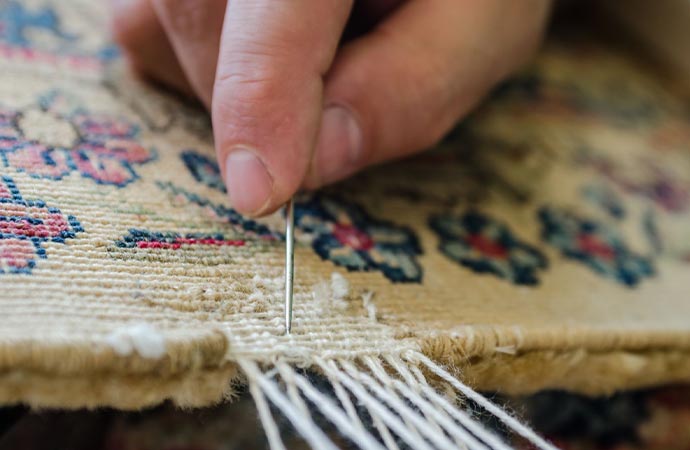 Legacy Rug Care: A Superior Solution for Your Area Rug
We can repair carpets made of a variety of materials, including acrylic rugs, sisal rugs, nylon rugs, wool rugs, cotton rugs, silk rugs, etc. The following is a list of additional rug restoration services that you can expect from us:
Rug fringe repair: We'll determine the best rug fringe repair method after inspecting it thoroughly. Power-fringing is used on machine-made rugs because it is more efficient. Complete replacement of the fringe is possible, and you can select a new one from among many available options.
Rug patching and reweaving: The easiest technique to fix your area rug is by patching and reweaving it. In the event of a hole or other damage to your area rug, patching and reweaving can help you avoid having to buy a new one and restore it to like-new condition instead.
Rug backing repair: Your rug will have a longer lifespan if you get this kind of repair done.
Rug serging and binding: We are going to inspect your area rug with a thorough examination for serving and binding. The serging on your rug makes it look more polished and complete. We will either use a hand or machine to dry and bind your rug; however, this will be determined by the condition and style of your rug.
Count on Us for Superior Area Rug Repair Services
Trust Legacy Rug Care for the very best, superior area rug repair services. Call us today at 410-348-1814 or contact us online to schedule an inspection of your area rug.