Waterproof Area Rug Pads in Baltimore & Columbia, MD
Waterproof area rug pads block liquids from reaching the floor underneath rugs. Spills, pet accidents, or any liquid that can enter an area rug from the top side protects flooring or carpet under your area rug. Rugs and pads then can be properly cleaned either D-I-Y or professionally without floors being jeopardized in that process, as well.
Legacy Rug Care experts provide superior rug cleaning services and protection for your area rugs, including waterproof area rug pads. Make your area rug feel as good as new before and after cleaning with waterproof rug pads that also cushion under foot. For assistance with any area rug cleaning, repair or protection service, call Legacy Rug Care at 410-348-1814 or contact us online. We provide services in Baltimore, Columbia, Rockville, and throughout our Maryland service area.
Why Waterproof Area Rug Pads By Legacy Rug Care in Towson, MD?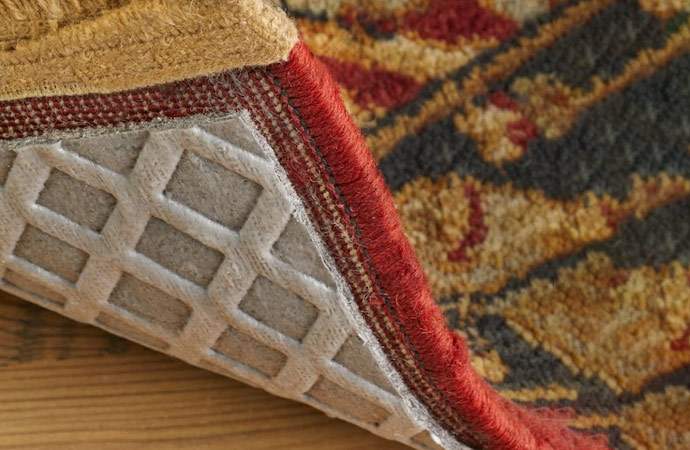 Pet-proofing rugs and floors: Accidents with pets are unavoidable. They often happen when we're not at home. Pet urine is also likely to be found under furniture such as couches or beds, and is detected later. Pet urine soaks through carpet and onto floors, degrading them over time. A waterproof rug pad prevents this.
Spill protection: Embarrassing spills and costly carpet or floor repairs can be avoided. Your waterproof rug pad's protective barrier contains spills with memory foam or a soybean oil polymer combination.
Indoor/outdoor waterproofing: Entryways and bathroom hallways see heavy foot traffic. Floors can suffer water damage. Waterproof rug pads protect and help grip your area rug. Water is wiped away and contained, and the floor protected.
Why Legacy Rug Care For Waterproof Rug Pads in Towson, MD?
Cleaning rugs in Maryland since 1986
Cleaning and rug repair specialists
State of the art equipment & facility
Stain removal experts
Certified to clean even the most delicate rugs
Drop off and pick up options available
Trust Legacy Rug Care For Waterproof Rug Pads in Baltimore & Annapolis
Count us for the best area rug protection and waterproof rug pads in Baltimore, Annapolis, Towson, Columbia, and other cities that we serve in Maryland. Our professionals are fully trained to provide you with the best rug-related services. In addition to waterproof rug pads, we also offer area rug repair, pet stain removal, rug pad options, rug protection services, and more. Please call us today at 410-348-1814 or click here to make a reservation with a rug protection technician today.